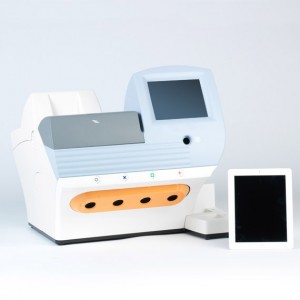 A thermoformed medical device enclosure we made took first place at the 2013 Society of Plastics Engineers annual parts competition, winning the "Heavy Gauge, Pressure-Formed" category.  If the enclosure looks familiar, it may be because you've come across it in our project gallery.
The SPE's Thermoforming Division is basically the organization for the technical side of our industry.  And if you get excited about things like "heat deflection temperatures" and the "coefficient of linear thermal expansion," then the SPE's annual Thermoforming Conference is the place to be.
We're there every year, partially to network with our colleagues, and partially because we want to stay at the forefront of our industry and its technology.  This year we entered a medical device enclosure into the SPE's annual parts competition. We were honored to take 1st place in our category.
The judging at the annual parts competition is done by other SPE members.  The judges are our peers, and in many cases even our competition.   To have them tell us they admire our work is a true compliment.
The winning medical device enclosure showcases the versatility of pressure forming as a process.  In fact, many people would look at this device and think, "that has to be injection molded."  But it's not.
In fact, pressure forming was a perfect choice for this project.  The client only planned to produce between 75 and 100 units per year, and at those quantities injection molding would be very very expensive.  We were able to deliver an attractive, durable and RoHS-compliant plastic enclosure at a fraction of the cost of injection molding.
Every piece of the enclosure was painted and had EFI/RFI shielding applied at our in-house painting facility.  We worked with the client's engineering staff to design an enclosure with built-in attachment mechanisms that reduced the need for additional attachment hardware.  This in-turn reduced both assembly costs and time.
The enclosure is made from multiple parts.  Some of the parts are straightforward, others are very complex.  To create an aesthetically pleasing final product from this many parts, with this level of complexity, requires a high level of quality control and exact tolerances.
We're proud of every single thermoformed part that comes out of our factory.  It's nice that in this case, someone else recognized the quality of the materials we produce.
We'd like to congratulate our fellow winners in the part competition's other categories, and thank the SPE and our peers for the award.