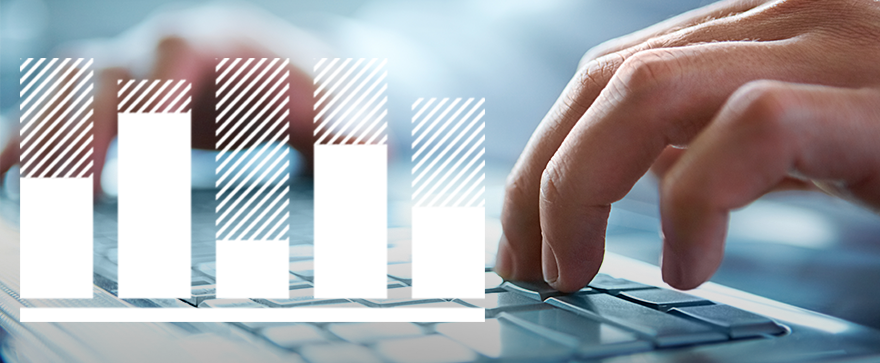 A few weeks back, we sent out our second annual thermoforming industry survey to more than 2,000 engineers and administrators at companies across the United States that use custom plastics manufacturing.
Last year's survey focused on what these companies were looking for when they chose a plastics manufacturer to work with. This year, we expanded our focus a bit. Here's what we learned.
Thermoforming is Big, And Getting Bigger
Our survey found that thermoforming accounted for about 25% of custom plastic manufacturing projects in the past year, and our survey takers expect it to grow a bit in the coming year.
Over the past 12 months, what percentage of the plastics manufacturing projects you were involved with used thermoforming?

Looking ahead at the next 12 months, what percentage of the plastics manufacturing projects you expect to be involved with are likely to use thermoforming?

Offshore Manufacturing Isn't Very Popular, And It's Getting Less Popular
According to our survey respondents, 64% of their plastics manufacturing happens in the United States. In fact, 33% suggested that 100% of their plastics manufacturing occurs right here in the USA.
All together, just 13% of the people who took our survey are happy with offshore plastics manufacturing and have no plans to reshore their plastic manufacturing operations.
About what percentage of your current plastics manufacturing operations happen in the United States?

Have you reshored any of your offshore plastics manufacturing in the past?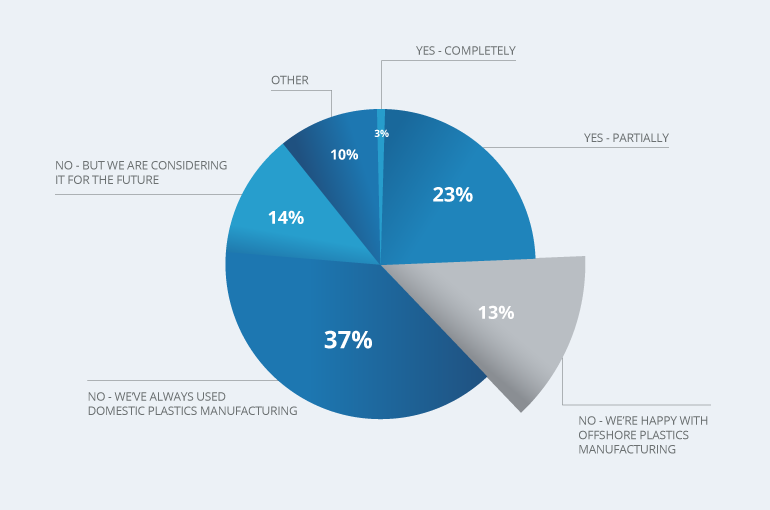 Recyclability Matters
Thermoforming offers recyclable plastics manufacturing process. It's something we take pride in, but we weren't sure if it was something that mattered to our customers. For most of you, the answer is yes.
Is 100% recyclability important to you?
Everybody Likes Paying Less, And Getting More
We asked an open-answer question about what our survey takers saw as the key advantages of thermoforming when compared to other processes. Here are a few of the common themes, along with some representative answers:
Thermoforming Costs Less
"Cost"
"Cost and repeatability"
"Cost efficiency of tooling"
"Inexpensive to create tooling, and/or to make changes to that tooling"
"Low tooling costs as well as achievable form factors otherwise too costly and/or unachievable"
It's Faster (And Cheaper)
"Fast and Inexpensive"
"Faster, Cheaper Tooling"
"Fast prototyping / quoting at a competitive cost thru to production"
"Lead Time, Price"
"Speed to market, inexpensive tooling"
It Does More
"Ability to form larger size part that would have been costly for injection molding."
"Complex Geometry!"
"Control over manufacturing tolerances for larger components"
"Less material and scrap"
"More control, less waste"
Our Takeaway
We're the first ones to say that thermoforming isn't right for every project. But it can be such a versatile, cost-effective process that it's worth at least considering on nearly every plastics manufacturing process.
We're glad to hear that many product manufacturers across the country seem to know this too. If you're one of them, evaluating the right process for your next project, we'd be more than happy to help.