It's time to take a look at the results from the 2015 version of our plastics manufacturing survey. This year, we surveyed more than 4,000 professionals at companies who use plastics manufacturing across the country.
We asked them questions about their experience with plastics manufacturing, their current activities and their plans for the future. What we learned is a peek into the future of our industry.
Who We Surveyed
Our survey was distributed to key decision-makers at companies that use plastics manufacturing. Engineers, product designers, administrators and manufacturing executives. These people come from a wide variety of industries, from medical device manufacturing to green energy, automotive and more.
 Respondents' Industries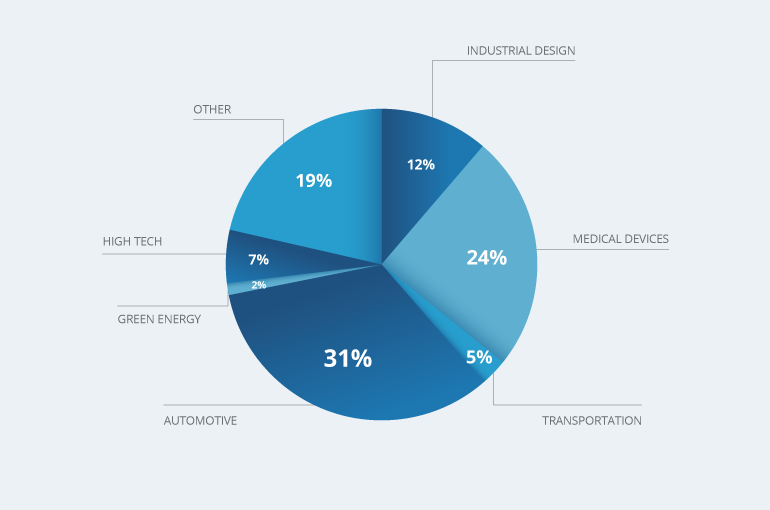 Respondents' Fields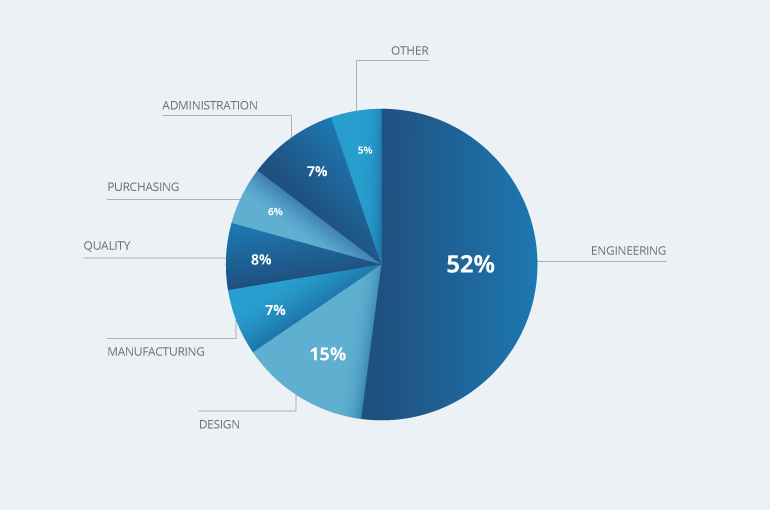 What We Learned
This year, we very intentionally duplicated some questions from our survey last year, in an effort to measure attitudes and trends in plastics manufacturing year-over-year.
Here's what we learned.
Injection Molding & Sheet Metal are Down, Pressure Forming is Up
Both last year and this year, we asked survey takers which plastics manufacturing processes they currently use.   By analyzing the difference between the year-over-year answers, we're able to determine which processes gained or lost the most popularity from one year to the next.
This year, pressure forming saw the biggest increase in popularity, while injection molding and sheet metal saw the biggest decreases.
Which of the following processes does your company use? Change from 2014-2015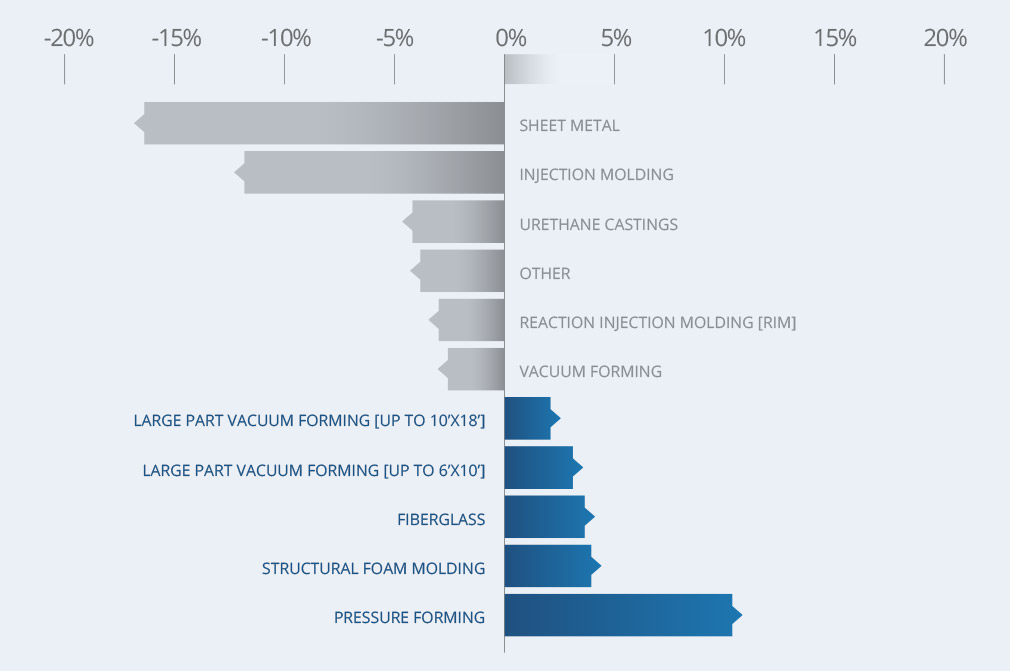 Thermoforming Is About ¼ of Plastics Manufacturing, And Growing
Similar to last year, survey respondents indicated that thermoforming accounted for 24% of all their plastics manufacturing activity over the past 12 months. They also expect that number to grow, to 28%, over the next 12 months.
Percentage of plastics manufacturing projects that use thermoforming

More Offshore Manufacturing, and More Unhappiness With Offshore Plastics Manufacturing
This year, we saw a surprising increase in offshore manufacturing.
We've covered the "reshoring" trend in the past, and you can't deny the quality, convenience and, in many cases, cost-savings benefits of domestic plastic manufacturing. But, nevertheless, we saw a 10% dip in the amount of plastics manufacturing that survey respondents say happened in the United States.
About what percentage of your current plastics manufacturing operations happen in the united states?

One thing that didn't surprise us is an increase in dissatisfaction with overseas manufacturing. When we asked about plans to reshore, the percentage of respondents who said they were happy with offshore plastics manufacturing dropped to below 10%, a decrease of 4% from last year.
Happy with offshore plastics manufacturing & no plans to reshore

100% Recyclability Is More Important Than Ever
This year, close to 60% of our survey respondents indicated that 100% recyclability is important to them, an all-time high for our annual surveys.
Is 100% Recyclability important to you?

Quality Is Still The No. 1 Concern
For three consecutive years now, we've asked survey takers for the most important qualities they look for when choosing a plastics manufacturing vendor. The answers haven't changed much.
In choosing a plastics manufacturing vendor, how important are each of the following qualities?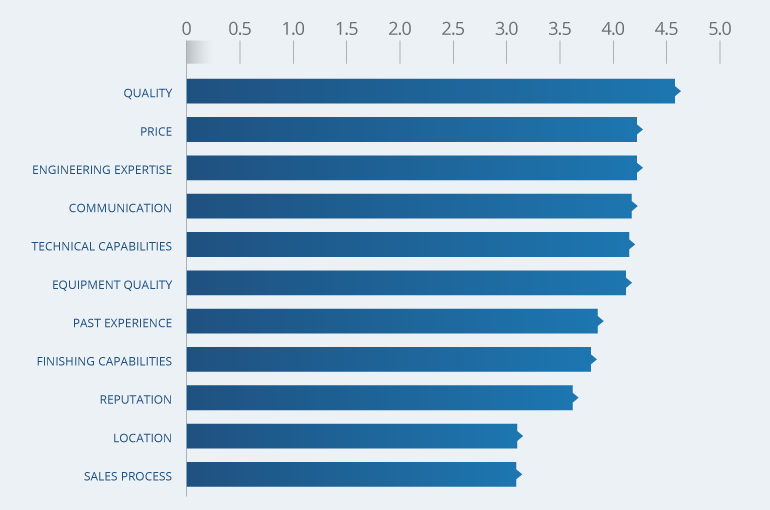 Our Take
We've been preaching the advantages of pressure forming for years, and it looks like someone might be listening. Pressure forming is a cost-effective plastics manufacturing process that can match, or exceed, the quality offered by injection molding and really any other process.
We're surprised to see an increase in offshore manufacturing. There are lots of good, practical reasons to keep your plastics manufacturing domestic, evidenced by the fact that we ship pressure-formed parts from the United States to overseas assembly facilities every day.
But it looks like some of our survey takers might be learning that lesson the hard way.
Thanks to everyone who took the time to take our survey. We'll see you again next year.