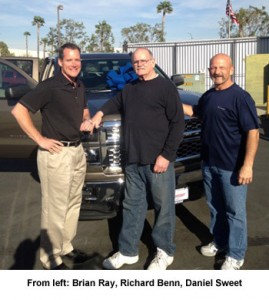 On February 17, 1964, Richard Benn walked into the Ray Products factory in Alhambra, California for his first day on the job. Just a few weeks ago on February 17, 2014, he pulled his last shift at our factory here in Ontario, California.
For those of you keeping track at home, that's 50 years on the job.
When Richard started his first day at Ray Products, The Beatles' "I Want to Hold Your Hand" was at the top of the charts, Lyndon B. Johnson was in the White House and IBM was about to introduce its System/360 mainframe with a revolutionary 8 MB of internal storage starting at $2.5 million.
In the 50 years that followed, many things changed. But Richard's loyalty to his employer didn't.
On his first day in 1964, Richard was hired on to make small thermoforming tools and fixtures for trimming and bonding thermoformed parts. During the next 50 years, he adapted to advances in the thermoforming process and changes that saw Ray Products grow from an early 750-square-foot fabrication shop to today's 48,000-square-foot, state-of-the-art thermoforming facility.
Richard has worked at Ray Products through three generations of family ownership. Allen Ray was still running the company he had started on Richard's first day. Richard stayed on through Bruce Ray's entire 28-year tenure as company president, and through the first 11 years of Brian Ray's leadership.
"It's been quite a journey," said Richard. "I've watched this company grow leaps and bounds, and I am proud to be a part of that success. I have known the Ray family for 50 years, and Ray Products and its employees are like a second home."
We sent Richard off with a retirement party 50 years in the making. Now, he plans to spend his time traveling, visiting family and running up the odometer on his motor home.
Richard's 50 years on the job were enough to earn a mention in Plastics Technology, which said:
"Successful processors … have nurtured and held onto a loyal, experienced crew of long-term employees."
We couldn't agree more.
"Richard is the kind of employee every company owner dreams of," said Brian Ray. "We have benefited tremendously from his work, and are honored by his 50 years of service."
Thanks, Richard, for an amazing 50 years of good work.