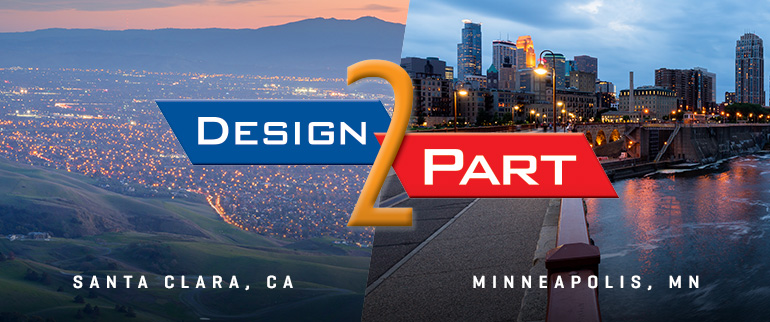 After a busy couple weeks at trade shows, we're back in the office and we've had a chance to think back on Design2Part Santa Clara, and Design2Part Minneapolis.
Both shows were great, and we're hoping to be back next year.
Here are our personal highlights and takeaways from both shows:
Design2Part Santa Clara
There's a reason housing prices set new records just about every year in the Bay Area. Spending 4 days there was a treat.
We had a chance to meet with several of our existing customers, get updated on their progress and get excited about their plans for future growth.
It was our first chance to show off a brand-new tradeshow booth, and the reviews were all positive.
We got to meet a few potential new customers, and it's always exciting to be able to help people build new things.
It doesn't get more Northern California than eating at a restaurant in the 49ers stadium, watching the Golden State Warriors play. It was, as the locals might say, "Hella Cool."
Design2Part Minneapolis
We can confirm that "Minnesota Nice" is absolutely a real thing.
We combined the trade show with several visits to existing and potential customer facilities.
We had an annual business review where Ray Products scored in the top 4 total suppliers in quality, on-time delivery, engineering and purchasing support.
We hosted a lunch-n-learn for a group of industrial and mechanical engineers. We love the opportunity to show engineers what thermoforming can do, and hear them say, "I had no idea that was possible."
We managed to hit Brit's Pub for the opening day of lawn bowling.
It was a crazy few weeks, and it's great to be home with a ton of good memories and a busy schedule of projects from familiar, and new customers.
We're looking forward to doing it again next year.