The results of our 4th annual plastics manufacturing industry survey are here. After sending our survey to thousands of plastics manufacturing customers, tabulating the results and analyzing them, we're ready to peer into the past, present and future of the plastics manufacturing industry.
The Executive Summary
Don't have time to read the full report? Here are some of our most significant findings:
A 21% Majority of Respondents Predict Growth in Plastics Manufacturing Over the Next Year.
The Percentage of U.S.-Based Plastics Manufacturing (68%) Is Higher Than It's Ever Been Since We Started Our Survey.
Pressure Forming Is More Popular Than Ever, Up 11% From Last Year.
In 2017, 100% Recyclability Was Less Important Than It Was in 2014.
92% of Engineers Demand a Prototype Before Going to Production.
Quality Is, & Probably Forevermore Will Be, the #1 Attribute Customers Look for in a Plastics Manufacturer.
Who We Surveyed & Why
Our goal is to attract responses from a wide, representative group of people who use plastics manufacturing on a regular basis throughout the course of their jobs. To that end, our survey was distributed to manufacturing-related tradeshow attendees, relevant publication readers and a network of industry contacts.
The result is a group that uses plastics manufacturing regularly, representing most facets of the industry and a wide range of positions within that industry.
If you're part of that group and didn't have a chance to take the survey, just let us know and we'll make sure you're invited to next year's survey.
Plastics Manufacturers Expect Growth by a 21% Margin
When we asked plastics manufacturing customers to predict how many projects they'll take on over the next year, 55% said they expected their volume to stay about the same. However, of those who expect a change, those projecting growth beat out those projecting a reduction by a 21% margin.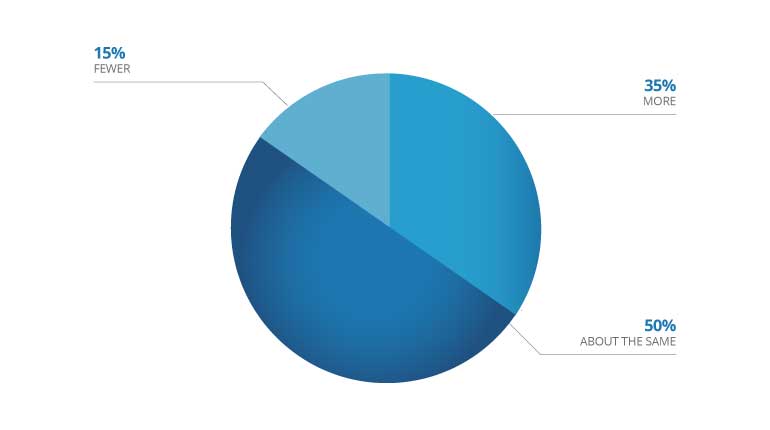 More Plastics Manufacturing Is Happening in the U.S. Than Ever*
*Ok, so when we say "ever," we mean "since we started this survey in 2014." But it's an encouraging trend for those of us who've seen the value of U.S.-based plastics manufacturing firsthand.
Back in 2014, our respondents reported that just 54% of their plastics manufacturing happened in the United States. This year, that number has risen to an all-time high of 68%.
You'll notice that 2016 seems to buck the trend of year-over-year growth in domestic plastics manufacturing, but that's only because we had a disproportionate number of designers take our 2016 survey. As it turns out, designers seem to be less aware of the benefits of domestic plastics manufacturing, as discussed in last year's survey post.
Pressure Forming Is Up 11% From Last Year
While our survey takes a broad look at the plastics industry as a whole, we of course take a special interest in the processes we offer, like pressure forming. We've spent a lot of time working to educate industry professionals on the advantages of this often-overlooked process, so we were happy to see that pressure forming's popularity is up 11% from last year.
Overall, our respondents predict just a small increase in their thermoforming from 2017 to 2018, but even a small growth is still growth that's worth getting excited about.
2017 Process Popularity Index Update
Every year, one of the most anticipated portions of our survey is what we've taken to calling our "process popularity index."
Since 2014, we've been asking respondents which manufacturing processes they're currently using. By examining our year-over-year data, we can see clear trends and maybe even make some predictions about where the industry is headed.
Without further ado, here's the 2017 update to our manufacturing process popularity index.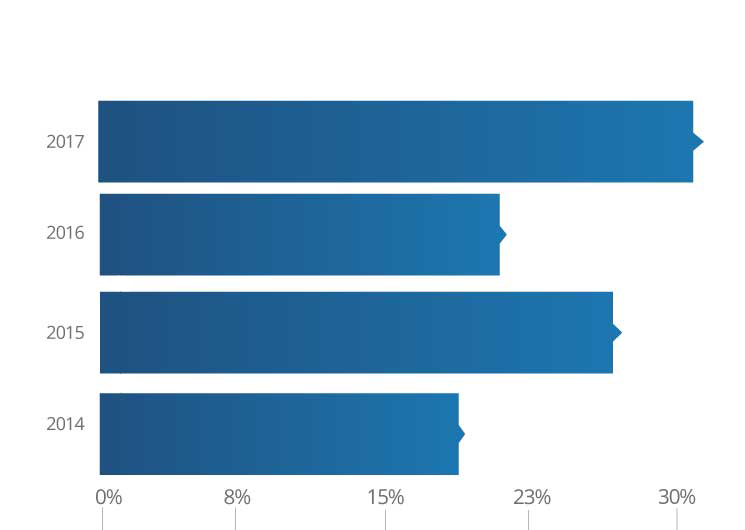 Manufacturing Customers Are Diversifying Their Process Selection
We frequently say that there's no "one size fits all" in manufacturing. Every process has its niche, the sweet spot where it's the best option for a specific type of project.
The problem comes when people don't understand the benefits of a process, and end up picking the wrong tool for the job, or just sticking with one process because it's what they're comfortable with.
That's why we're happy to see clear evidence that over time, manufacturing customers are diversifying the processes they use. In 2017, for the first time, our survey found that the average manufacturing customer was taking advantage of the benefits of more than three processes.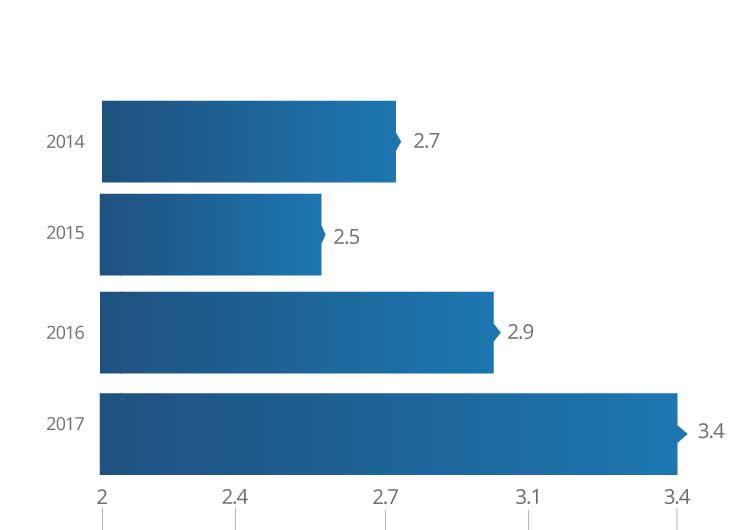 Recyclability Is on a Downward Trend
Every year, we've been asking plastics manufacturing customers how important 100% recyclability is to them. While it's clear that overall, Americans are supportive of recycling, it seems like the trend among OEMs might be away from that concern. Still, regardless of whether or not they're targeting recyclability, it's good to know that processes like thermoforming are still largely recyclable by their very nature, compared to processes like urethane, RIM and structural foam which can't be readily recycled.
Engineers Demand Prototypes
This year, we asked engineers a new question: Are you willing to start production without a prototype? The answer was a resounding "No." Over 90% of the engineers we surveyed said that they were unwilling to move into production without first having a prototype.
Quality Is Still #1
Every year, we ask respondents to rank the attributes they're looking for in a plastics manufacturer. And every year, without exception, "Quality" is ranked #1.
After four years of conducting the survey, and 69 years in the plastics manufacturing industry, that comes as no surprise. Also no surprise is that no single attribute ranked lower than a 3 out of 5 in terms of importance … leading to the inescapable conclusion that when customers are searching for a plastics manufacturer, they really do want it all.
Our Take
Like we said, while we've only had this survey for four years, we've been in the plastics manufacturing industry for nearly 70 years. A lot of what we see in these results confirms what we know from personal experience. Plastics manufacturing customers are smart. They want great quality, great service and a great price. They're willing to pick the right process for their projects, and they understand the benefits of domestic manufacturing.
As a manufacturer, our job is to do everything we can to exceed those expectations, and help to educate those customers so that when they have projects that are a good fit for our processes, they have the knowledge they need to make the right choice.
Thanks to everyone who took the time to respond to our survey. And if you have a project that you think might be a good fit for us, we'd love to help you out.