Pressure Forming Tooling
At Ray Products, we stand behind our tooling. It is the foundation to the success of your project and our ability to manufacture complex parts. We'll guarantee the performance of your tooling for life, as long you're using it for manufacturing in our facility.


Precision
---
We've built a reputation for exceeding industry-standard tolerances, and our fully robotic trimming capabilities are a key part of how we've been able to do that. Robotic trimming lets us deliver precise, repeatable results on every part that leaves our manufacturing facility.
The Right Tooling
---
Our Pressure forming tools are billet aluminum, and are temperature controlled to achieve repeatability and high cosmetics.
For heavy gauge pressure forming, there's no other material that can match the quality of temperature-controlled aluminum tooling. We think our customers deserve the best, and so that's what they get.
Ray Products Pressure Forming Tooling
---
Billet-Machined Aluminum
Guaranteed For Life
Up to 6' x 10'
Up to 90% Savings Over Injection Molding Tooling
Temperature Controlled Tooling
Gun-Drilled Cooling Channels
Automated Tooling with actuating slides for undercuts and features.
1/10th The Cost of Injection-Molding Tooling
---

Many people are put-off by the very high costs of injection molding tooling. Pressure forming tooling can match or exceed the quality and performance of injection molding, with tooling costs that are often 1/10thless than comparable injection molding tooling.
Billet-Machined Aluminum
---
Our tooling is made from billet-machined aluminum. That means we start out with a brick of aluminum, then mill away the raw material until we have a shape that matches your designs.
Bigger Options
---
At Ray Products, we operate the largest pressure former on the West Coast. We can create tooling for pressure formed parts up to 6-feet by 10-feet.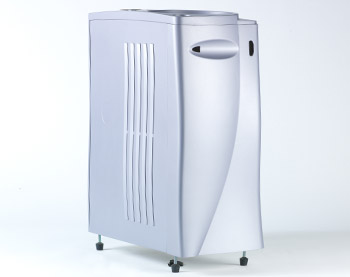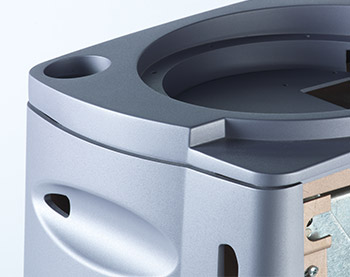 Temperature Controlled Tooling
---
It's important that during the pressure forming process, the tooling maintains a consistent temperature. Without cooling, the tool would heat up during the pressure forming process, as it came into contact with more and more sheets of heated plastic. This would require waiting for the tool to cool between the molding of each part, and significantly slow the manufacturing process. By controlling the cooling you also gain better material distribution along with part to part repeatability. Having robotic trim centers in our facility makes it more important for us to maintain the dimensional stability required.

Our liquid cooling system circulates fluid through the tool during the pressure forming process, drawing heat away from the mold and allowing the production run to move rapidly while maintaining the quality of the thermoformed parts.

The cooling channels are created during the tooling manufacture process, using a precision drilling technique called "gun drilling", that was originally developed for (you guessed it) drilling out the barrels of precision firearms.
Automated Tooling
---
At Ray Products, we typically incorporate actuating slides and moving cores into our pressure forming molds. This allows our customers to add features, like slots and tabs, into the part design to help eliminate the need for secondary processes

These allow the mold to shift after the plastic has been formed, to let the finished part be removed without resistance from undercuts and negative draft angles. Traditionally, this is done manually, but at Ray Products we have a fully automated system that contracts the tooling when the finished sheet of plastic is ready to be removed from the tool.