About Us
For 70 years, Ray Products has been helping our customers create 3D thermoformed plastic parts. Using some of the most advanced machinery and materials in the business, we work with a wide variety of industries to create the parts you need.
HISTORY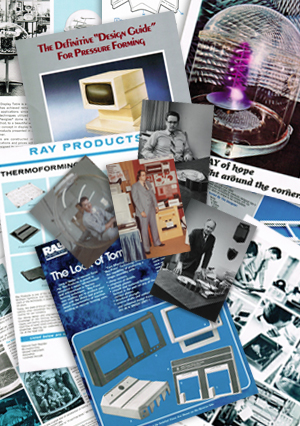 On April 1, 1949, Allen Ray along with — as the Alhambra Free Press put it — "his pretty wife, Margaret" founded Ray Products.
Today, 70 years later, some things are a bit different than they were then. Allen and Margaret might not recognize our current (much larger) headquarters, and our thermoforming equipment might look a bit alien to them. In those early years, the company mostly just produced one product: plastic baby bassinets. Today, Ray Products makes custom plastic pieces that are used around the world in everything from medical devices to commercial aircraft.
But some things haven't changed. For one, the company is being run by Allen and Margaret's grandson Brian. For another, we're still committed to delivering the highest quality custom plastic parts available.
Back in the 1950s, Allen and Margaret's bassinet-making technology was on the cutting edge. Today, we still are. We've invested millions in equipment that lets us do more for our customers, like 4-axis fully-robotic trimming and the largest thermoforming capabilities on the west coast.
Our company's also inherited Allen's habit of telling it like it is. For more than half a century, Ray Products customers have known that we're always good for a straight answer.
We're not out to make a quick buck, and we've spent well more than half a century building a reputation we're proud of. We've been doing business this way since Truman was in the White House, and we're not planning to stop any time soon.
If you're interested in working with a plastics manufacturer that combines the latest thermoforming technology with 70 years worth of reputation, we'd love to hear from you.