Your
Complete

Partner
---
We believe being a complete partner is valuable – that's why we go beyond the services of a typical thermoforming company, offering the capabilities to do the whole job.
No matter if your project needs painting, EMI/RFI shielding, finishing, or assembly, Ray Products can manage the whole process and ship you fully completed parts.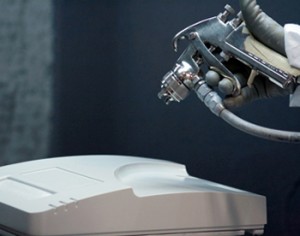 PAINTING & SILKSCREENING
While thermoforming allows you to select a plastic color that matches your final product, there are a few reasons you still might want to consider painting as part of the finishing process.
Our painting options include:
Low VOC, two-component polyurethanes
Custom colored paints
Master batching with other suppliers
Metallic or high-gloss paints
Multi-colored parts
Small lot customization
Ray Products' in-house painting and silk-screening facilities use the latest low-VOC water-based 2-component polyurethane paints, producing repeatable parts every time.
EMI & RFI SHIELDING
Many of the products that use our thermoformed plastic parts require either Electromagnetic Interference (EMI) or Radio Frequency Interference (RFI) shielding. Ray Products can apply EMI & RFI shielding in-house, streamlining your supply chain by eliminating the need for another costly and complicated step in production.  We also measure and document shielding thickness as applied to ensure that your coverage requirements are met.
FINISHING & ASSEMBLY
If your thermoformed plastic parts need hinges, handles, inserts or fastening devices, we can integrate them before shipment, meaning that you'll receive your parts fully assembled and ready to use for integration at your facility.
LOGISTICS MANAGEMENT
Thermoformed parts don't do you any good until they're delivered when and where you need them. That's why we've invested considerable resources into logistics management to make sure you have the parts you need, packaged the way you want them, and delivered when you need them. We're experts in supply chain management, inventory management, custom packaging, dock-to-stock, and container utilization strategies.