As we mentioned in our previous post we have been researching, processing, and interpreting data from over 200 manufacturing professionals on the use of heavy-gauge plastics manufacturing.
Did you know: This is the sixth year that Ray Products has been conducting this important industry research.
In this Plastics Industry Pulse, we'll uncover the data in the 2019–2020 annual survey that deals with overseas plastic manufacturing. As offshore manufacturing grows in a number of other industries, you may be wondering about its impact on plastics manufacturing.
What is the pulse of the industry as it relates to utilizing overseas plastics manufacturing?
What Percentage of Plastics Is Manufactured in the USA?
First, the annual survey examined what percentage of plastics is manufactured domestically. Interestingly, the data demonstrates that manufacturers who take on a higher volume of projects learn the value of domestic manufacturing. There seems to be a correlation with volume and experience. Have a look at the chart below: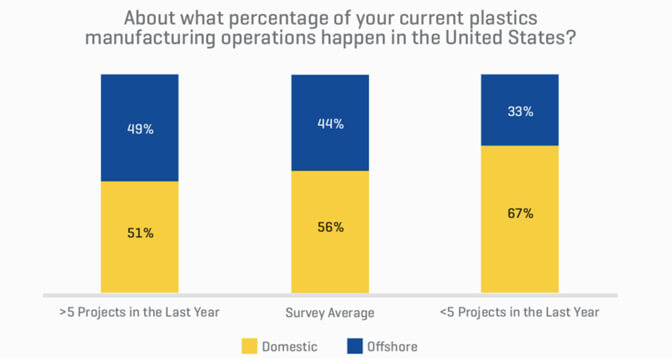 The data shows that respondents who were involved with more than five plastics projects in the last year
estimated that 67% of their operations occurred domestically. In contrast, those with five or fewer projects estimated that only 50% of their projects were manufactured in the United States.
Second, the survey asked this simple question: "Have you reshored any of your offshore plastics manufacturing in the past?" The data showed an overwhelming answer: Overseas plastics is utilized less than half the time, and it tends to be unpopular.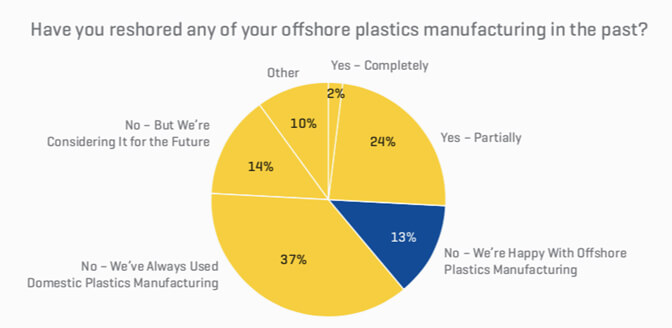 Breaking Down the Data on Offshore Plastics Satisfaction:
Only 13% of respondents indicated that they were happy with their overseas plastics operations, with no plans to reshore operations.
On average, respondents reported that 56% of their manufacturing happens in the United States. This represents a dip of 9% from last year.
Interestingly, these numbers very closely mirror data from past years' surveys, demonstrating that when manufacturers utilize overseas plastics manufacturing, they only tend to do so begrudgingly.
Interested in who we surveyed? We're so glad you asked…
Get to Know Our Survey Respondents:
Engineers, industrial designers and manufacturing professionals representing a range of industries
Industries include medical device manufacturers, the transportation sector, contract manufacturers, green energy and more
84% of our respondents had been involved with

at least one plastics manufacturing project

in the past year
30% of our respondents had been involved with

more than five

plastics manufacturing projects over the past year
As always, we're happy to share the report with you, and it's absolutely free. You can download it right here.