In this Plastics Industry Pulse, we'll examine the issue of recyclability as it relates to the plastics industry, while also considering overall trends in the industry in terms of production.
What does the plastics industry think about the need to "go green" with its products? The survey data demonstrates that industry-wide, the desire for 100% recyclability is growing. Chart 1 below demonstrates that after a couple years of decline, to our respondents, the importance of 100% plastics recyclability is definitely on the rise.
The data demonstrates that the desire for 100% recyclability hit a peak in 2016, with 63% responding that this was of high importance to their business. But then, the perceived importance of recyclability continued to decline for two straight years. However, in this year's survey, we are seeing the trend reverse toward a majority (55%) of respondents wanting 100% recyclability in their products It will be interesting to see if the importance of recyclability continues to increase.
Taking the Wide View of the Industry
Lastly, the annual survey paints a picture of the overall plastics industry that is a bit surprising: for the first time since conducting this survey, respondents predicted a slight decrease in the number of plastics manufacturing projects they expect to complete in the next year. While in the end this speculative response may not match the actual production, it is interesting that after the 59% of respondents who expected to take on the same amount of plastics projects in the next year, 23% expected to take on fewer projects and 18% expected to take on more. See Chart 2 for more: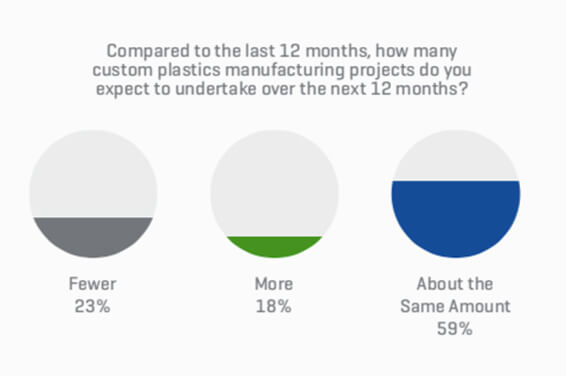 Whether this is a one-time anomaly or a trend, this will be an important data point to pay attention to as we move into the 2020-2021 report. Other industry analysts have predicted a 4% CAGR for global plastics through 2025.
In the next and final Plastics Industry Pulse, we'll review some overall highlights of the annual survey and offer some conclusions as we move forward.
Still haven't seen the report? We're glad to share it with you, and it's absolutely free.
You can download it right here.