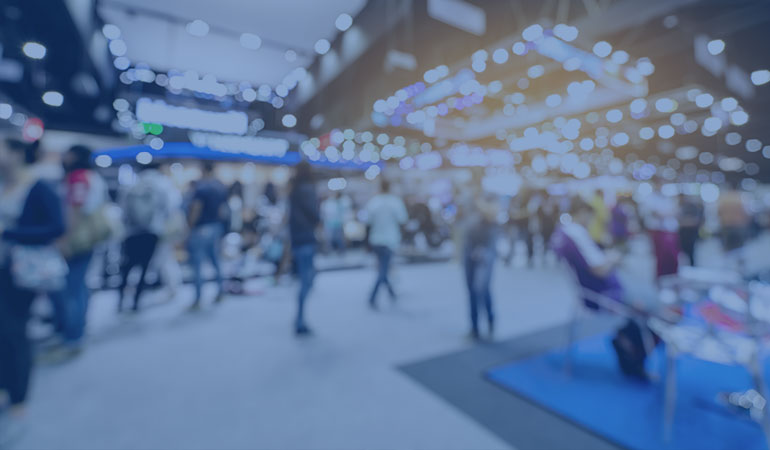 We love what we do at Ray Products. Being at the forefront of both the plastics and manufacturing industries is of primary importance to our business, and sharing the work we do with our customers is a key component of our success. That's why we're very excited to announce our participation in four upcoming trade shows and conferences through the end of 2019 into early 2020. First up is AmCon in Salt Lake City on October 2nd and 3rd. Right after that, we head to the D2P conference in Pasadena on October 9th and 10th. Finally, December and February bring us two back-to-back MD&M shows – first is the more specialized BIOMEDevice conference in San Jose on December 4-5th, then the larger MD&M trade show in Anaheim from February 11th-13th. Read on to learn a little more about each show, and what you can expect Ray Products to provide as a featured business.
AmCon Salt Lake City – October 2nd-3rd, 2019
A trade show centered on all facets of the manufacturing industry, AmCon connects product designers, engineers, manufacturing companies, material suppliers, retail brands and more together to facilitate conversations about manufacturing strategies – conversations that often lead to business opportunities. AmCon hosts several expos throughout the year in locations all over the country, and this fall, it opens its doors in Salt Lake City. As an exhibitor, Ray Products will be displaying several plastic parts to showcase the advanced technology and capabilities that are available using thermoforming and pressure forming. We're looking forward to forging new connections at the Crossroads of the West.
Learn more about AmCon Salt Lake City
D2P Pasadena – October 9th-10th
Hot off the heels of AmCon, we return to our home in Southern California for the D2P trade show. Like AmCon, D2P also hosts several gatherings each year, and we're always excited to attend, especially when they're essentially in our backyard. D2P stands for Design to Part, and is specifically focused on connecting product designers and engineers with manufacturers who can help turn their ideas into a reality. Whether seeking someone to prototype an idea or discussing tactical logistics of producing specialized plastic parts, the companies who find us at D2P are genuinely interested in what Ray Products can offer for their needs. We've met many clients at this trade show and are always excited to share our signature techniques and new developments with its receptive attendees.
Learn more about D2P Pasadena
BIOMEDevice – December 4th-5th in San Jose
MD&M – February 11th-13th, 2020 in Anaheim
We close out 2019 and begin 2020 with two medtech industry conferences, both hosted by MD&M (Medical Device & Manufacturing). Medtech, shorthand for "medical technology," is an integral component of Ray Products' business; in fact, the company got its start manufacturing clear plastic baby bassinets for hospitals in the 1950s. Along with the now-ubiquitous nursery window, which allowed visitors to gaze upon a sea of healthy newborns, these plastic bassinets presented visibility, cleanliness, and a sense of futuristic optimism for families in the post-WWII era. They are now the norm, used in almost every hospital across the US and beyond.
The first of our medtech conferences – the BIOMEDevice expo – is smaller and more specialized than a standard industry trade show. Unlike larger trade events, which aim to facilitate the execution of concrete projects, the BIOMEDevice conference is focused primarily on exploring ideas and advancements within the medtech field. Featuring presentations, panel discussions, case studies, and demos from an array of industry leaders and innovators, the conference looks to the future, stimulating conversation and collaboration among attendees involved in the design, development, engineering, and manufacture of medical devices. It's an exciting, inspiring environment that consistently generates new ideas. We're thrilled to attend.
The second of these conferences is the large-scale MD&M trade show. A more traditional industry event, the expo provides a consolidated space for attendees to showcase everything from prototypes, new designs, and technological advancements to manufacturing solutions and distribution channels. Ray Products naturally falls on the manufacturing end of the spectrum, and our thermoforming and pressure forming techniques have proven incredibly helpful and cost-effective for producing a wide array of medical devices, including CT Scan, X-Ray, Imaging and MRI machines; sterile packaging; bins and trays; hospital room panels; hospital bed components; and stands and support equipment. We look forward to reconnecting with our loyal medtech clients and generating new opportunities at this exciting and dynamic show.
Introduce Yourself
If you find yourself at any of these trade shows, we would love to meet you. Whether you're seeking advice on how to bring an abstract idea to fruition or looking for concrete solutions to specific plastic manufacturing questions, we've got a team of incredible engineers and 70 years of business expertise to help. See you soon.