In this Plastics Industry Pulse, we will examine how thermoforming popularity compares by industry and why that matters. New to thermoforming? Thermoforming involves heating a plastic sheet to a pliable temperature and shaping it to a mold using air or vacuum pressure (or a combination of both). It is then cooled, removed from the mold, and trimmed. Secondary operations can then be performed. Learn more about thermoforming here.
Thermoforming Popularity Rising, Albeit Slightly
To start, respondents reported a slight up-tick in their utilization of thermoforming in plastics manufacturing. This isn't terribly surprising, as it is a popular process. This slight increase in thermoforming utilization has continued on consistently over the last two years, based on the survey data. See Chart 1 for more: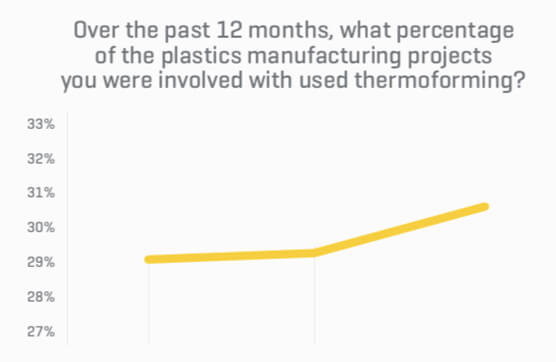 Ranking Thermoforming Popularity by Industry
Secondly, the survey data shows that three specific industries utilize thermoforming at a higher frequency than others. According to the data, thermoforming ranked higher than average in transportation/mass transit, plastic enclosures, and medical devices, while industries such as industrials and contract manufacturing utilize it below the survey average. See Chart 2 for more: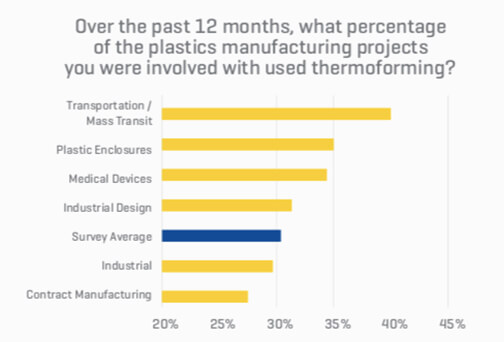 Interestingly, when considering other survey data such as those found in this Plastics Industry Pulse, both the transportation/mass transit and medical devices industries likewise favor more domestic plastics manufacturing than do other industries surveyed. Whether thermoforming is part of that decision to favor domestic over offshore manufacturing is beyond the scope of this analysis, but it is an interesting note, nevertheless.
In the next Plastics Industry Pulse, we'll examine how thermoforming popularity compares by industry and why that matters.
As always, we're happy to share the report with you, and it's absolutely free.
You can download it right here.